Meet Our Caring Houston Dental Team
At River Oaks Dental Arts, we treat our patients the way we'd treat members of our own families. Exceptional dental care is a team effort, and we take special pride in developing a trusting, long-term relationship with each and every patient.
We know that you have many options when choosing a Houston dentist, so we set our sights high and aim to exceed your expectations every time you visit our office. Dr. Testa has carefully chosen a skilled and compassionate team, the most up-to-date equipment, and the highest-quality materials in order to provide her patients with a truly unique dental experience.
We Look Forward to Meeting You!
Back to Top ↑
Dr. Palmira Testa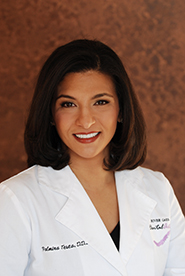 Dr. Palmira Testa has been delivering outstanding dental care since 1994. She received her Bachelor of Science degree from Southwestern University in Georgetown and her Doctor of Dental Surgery degree from the University of Texas Dental Branch in Houston.
Dr. Testa is a member of the American Dental Association, Academy of General Dentistry, American Academy of Cosmetic Dentistry, Texas Dental Association, Greater Houston Dental Society, and the Greater Houston Hispanic Dental Association. She has also lectured nationally on lasers in dentistry and is actively involved with the Give Back a Smile program.
Dr. Testa enjoys spending her free time with her husband, son, and extended family. Her other hobbies include scuba diving, skiing, traveling, and dancing.
Dr. Sara Mouzi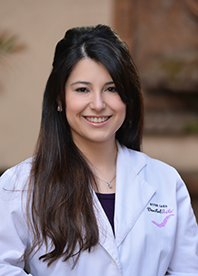 Dr. Sara Mouzi graduated from the University of Houston with an honors degree in biology and chemistry. She then received her Doctorate of Dental Surgery from Baylor College of Dentistry in Dallas, Texas in 2010.
She is dedicated to continuous learning and education and staying update-to-date in current technology and dental procedures. She prides herself on educating her patients on their dental needs and concerns to help them achieve overall health. She takes time to listen to their concerns and provides thorough care in a warm and friendly manner. She is extremely glad to be a part of the River Oaks Dental Arts team. She loves the fact that she can provide quality care for her patients to improve their overall health while also creating beautiful smiles.
She is happily married to her husband, who is also a dentist. After graduating from dental school together, Dr. Mouzi and her husband decided to move and practice in the Houston area to be closer to her family. They are excited to expand their family one day, but for now they are happy with their Siberian husky, Otto. In her spare time, she enjoys spending time with her family, traveling with her husband, and staying active with her dog.
Back to Top ↑
Both Dr. Testa and Dr. Mouzi stay up-to-date on the latest advancements in dental technology in order to offer their patients the gentle, minimally-invasive treatments they deserve. They look forward to getting to know you and helping you achieve the beautiful smile you've always wanted!
We Look Forward to Meeting You!
Back to Top ↑